← Back
2019 Mongol Derby: RACE UPDATE Day 7
Welcome to the update for Day 7!
The big surprise today, for me at least, was the sheer volume of riders getting off their horses and throwing in the metaphorical towel.  
Alanna Watt and Holly Rivett join Molly Pearson, Ava Drake and Sam Franklin in the adventure class.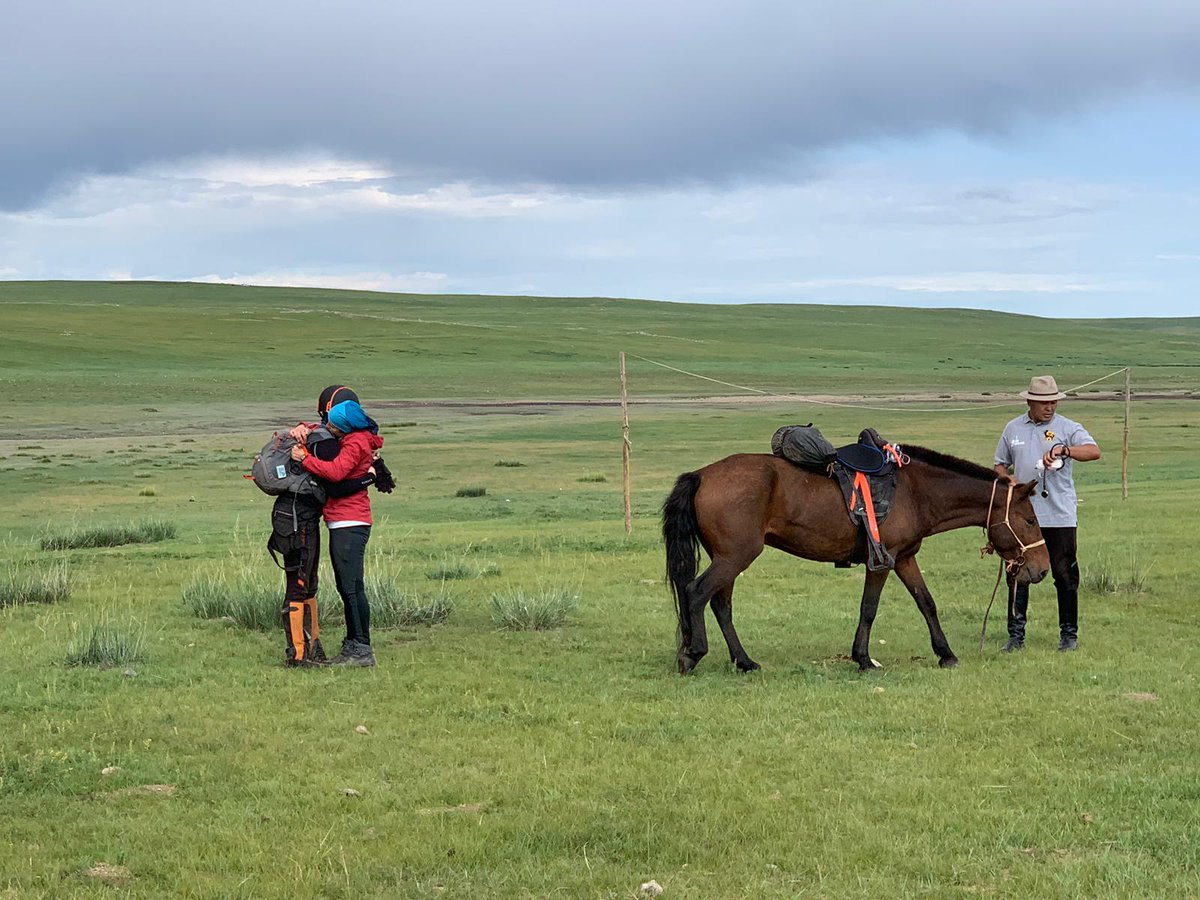 Anne Binnendijk overcome. Thanks to Sarah Farnsworth & the Adventurists for the photo
Anne Binnendijk, Abbi Bell, Patti Long and very surprisingly Ahmed Al-Ghurair retired.  Harriet Bond, Erin Nagle, Rendel Rieckmann, Ella Mildon, Jacqueline Knopfel, Sally Conway and Naomi Crombeem accepted defeat and gave up on the adventure class.  They join Pip Chisholm and Vasin Govender.  Why did Ahmed suddenly bin and get in a car for Ulaanbaatar?  Nobody seems to know.
Why at this late stage have so many riders stopped racing?  I suppose it is easy, watching the race from afar, to feel like it is nearly finished.  It is, for Robert.  Lots of these riders are still at least two days away from the finish line, which after seven days of spending every daylight hour on a series of naughty little horses, has understandably lost a lot of its allure.  
Sympathy to those who have Just Had Enough - sometimes accepting defeat is harder than carrying on.  Well done for making a tough decision.  Props to those who are hanging on in there, also - many riders who don't get an official finish for whatever reason reappear on the start line at a later date.  It's hard leaving something so enormous unfinished.  
What about the front of the race?  
Today, like yesterday, belongs to Robert Long who continued to pull away in spite of the heat, the fierce competitors behind him and the distance he has ridden.  How has he done it?
This year, unlike recent years, the organisers have removed the "biscuit trail", a notional racing line for riders to follow.  Riders have only had waypoints and have had to navigate from horse station to horse station looking at the topography and Robert is, quite simply, the master.  He rode straight through the middle of a bog (or something) every other rider rode around (just before HS24).  He then on a straight line for 20 kilometres out of HS24, during which part of the leg he crossed the river nine times.  As someone who couldn't navigate her way out of a wet paper bag, I must say that his navigation has been nothing short of extraordinary.  
Robert navigating at a gallop. Thanks to Sarah Farnsworth & the Adventurists for the photo.
Add to this the fact that he doesn't have a single vet penalty in a race where the front of the field have struggled to keep their horses sound (despite valiant efforts).

Robert has ridden on his own at the front of the race for two days and near the front for the duration.  Short of a race-ending fall, or a development I can't predict, Robert Long from Wyoming, U.S.A. will win the Mongol Derby 2019 tomorrow.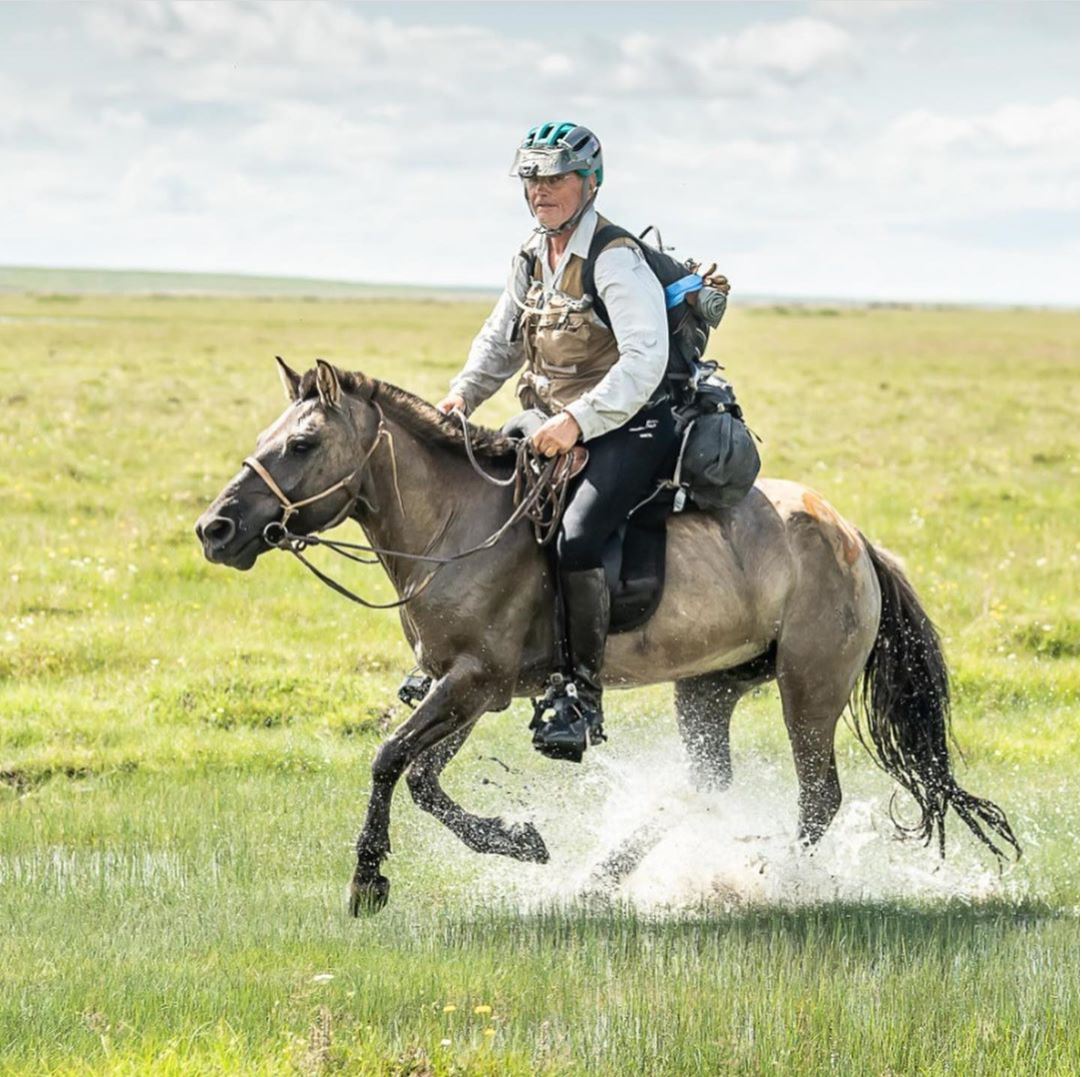 Robert's horse walking on water. Thanks to Sarah Farnsworth & the Adventurists for the photo.
How are the featured riders doing?
Elise Stables & Justine Hales
The Kiwis have ridden an amazing race.  Elise has ridden her way back from THREE vet penalties.  Justine surrendered her lead worried about her horse being unsound and she would never see the front of the race again.  Easy, you might think - the horse comes first.  Not easy for everyone all the time, I promise you.  I am a beginner rider but for me, one of the most amazing lessons horses can teach you is the importance of setting your ego aside and doing the right thing for your horse in the moment.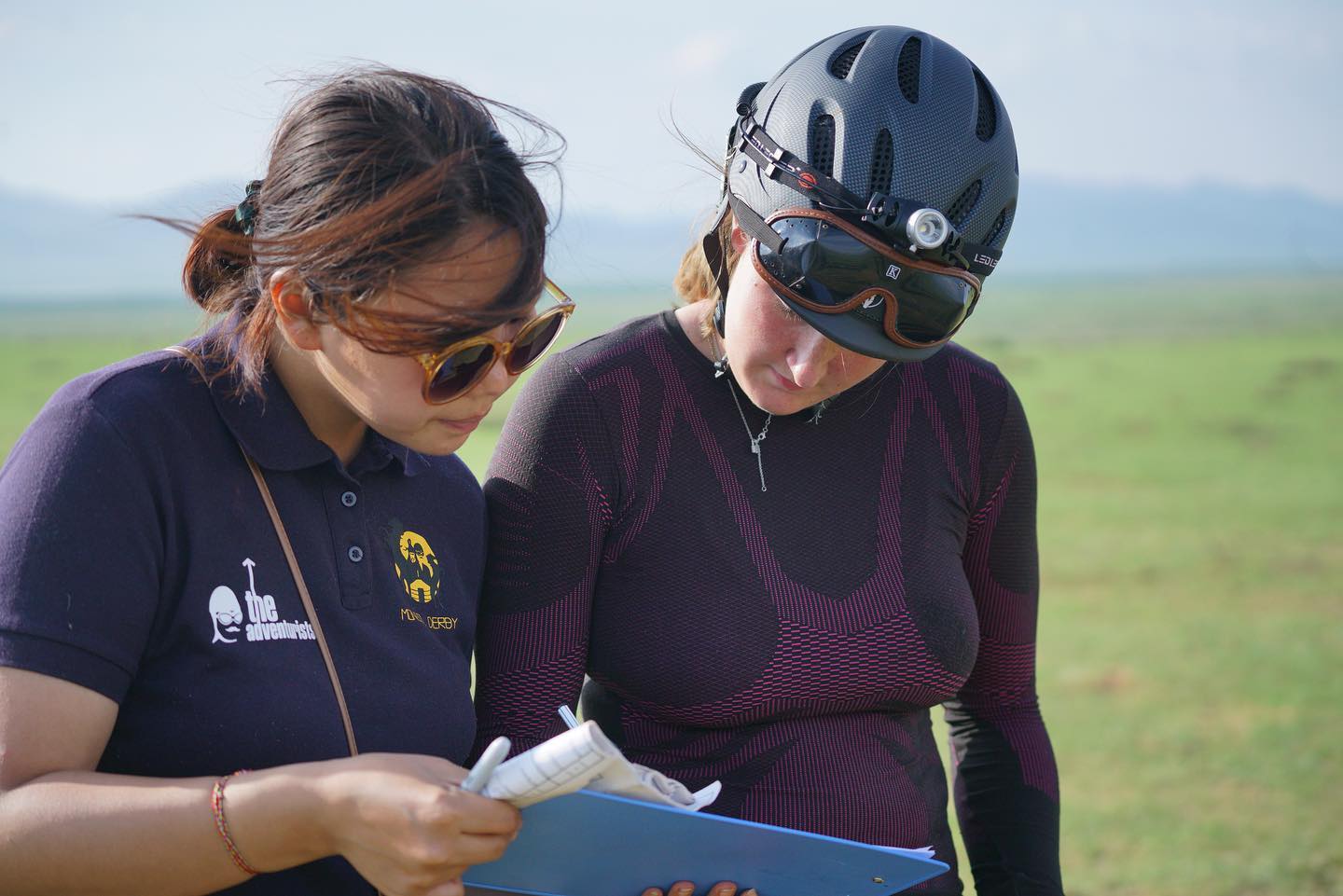 Elise. Thanks to the Adventurists & Sarah Farnsworth for the photo
Justine is in joint third place, Elise joint ninth.  They won't trouble Robert, but they will finish in impressive company at the front of one of the best Mongol Derbies to date.
Saffers Ride Mongolia
Wiesman, another consummate horseman, is the one rider who could still catch Robert.  After everything (two vet penalties, all the fighting, all the weather) he is sitting in second place half way to HS27.  Robert has taken an unusually large deviation from the racing line (for him) so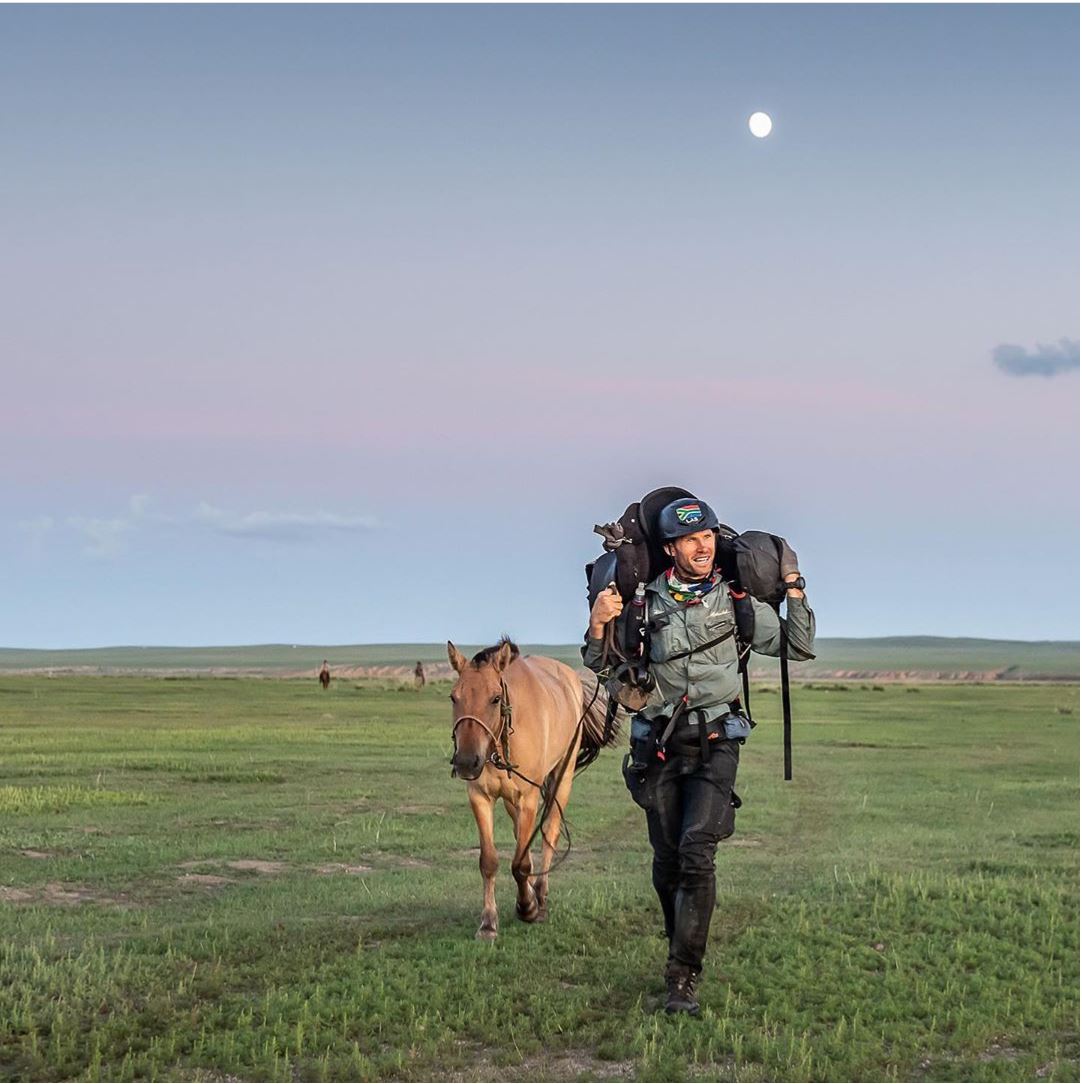 Wiesman doing everything he can to help his horse. Thanks to the Adventurists & Sarah Farnsworth for the photo
Sampie is a couple of places behind Wiesman, but the battle for third place is probably what will keep us on the edge of our seats on Day 8 - there isn't much between the big group behind Wiesman and every single one of those riders have proved themselves over and over again to have everything they need to win the whole race.  Just not altogether all the time...  
#bantertwins
Alanna Watt and Holly Rivett are sadly no longer racing, having taken up positions of honour in the Adventure Class.  Alanna wasn't well and Holly wasn't about to race on having come this far with her new friend.  They are making their way towards the finish line in their usual inimitable style and milking every possible drop of enjoyment from their once-in-a-lifetime experience.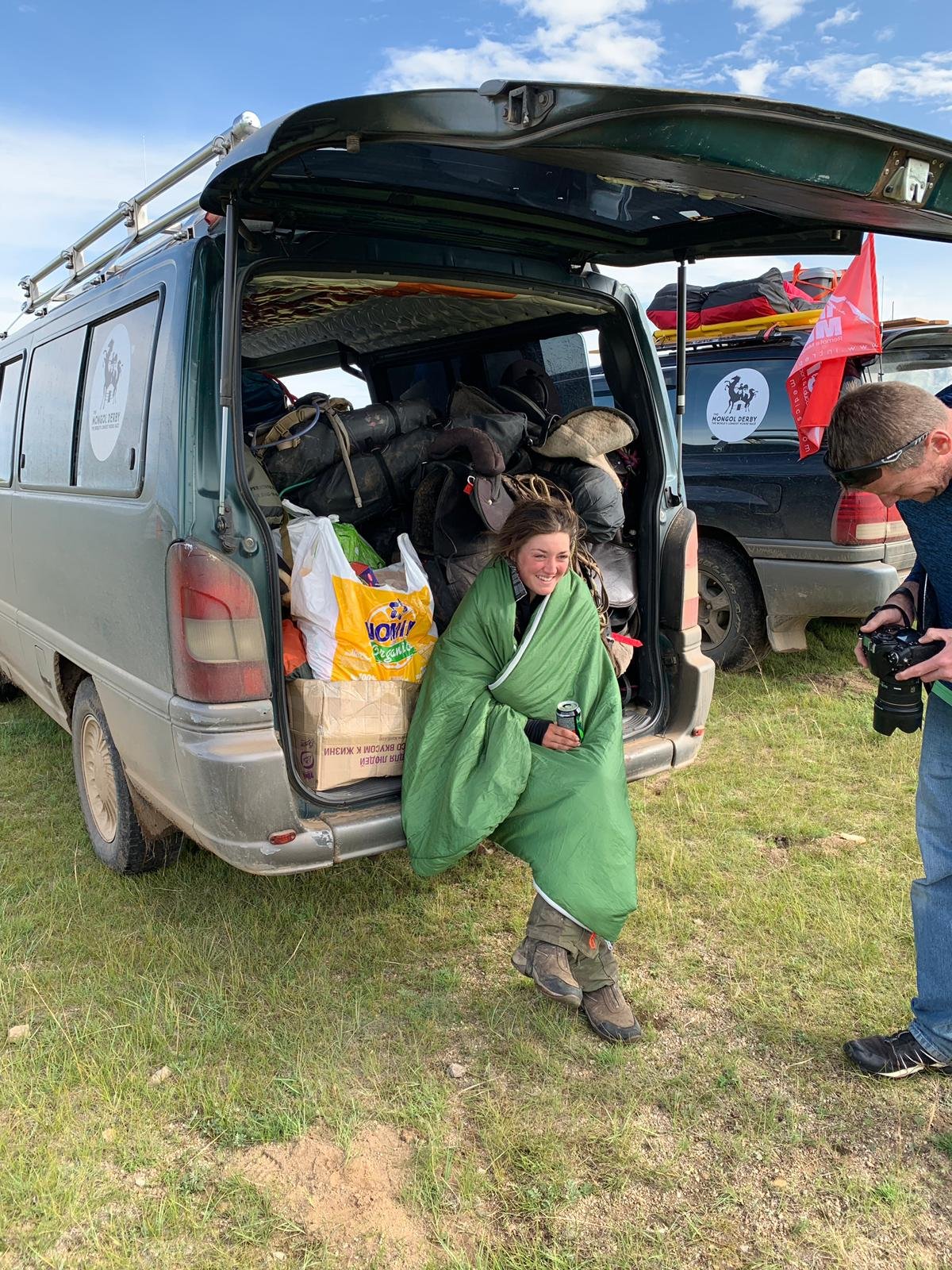 Alanna enjoyig a well-earned cuppa beer? Thanks to Sarah Farnsworth & the Adventurists for the photo
Or will it be... Like I said, those riders who don't race over the line often pop up in years to come on the start line. Holly's stepmother has already volunteered her for 2021, her boss has agreed to sponsor her again and apparently between them they're happy to look after my kids so I can provide some commentary in-country. Thanks guys!
Sam Chisholm
Sam is trucking along, despite tearing something in his ankle and having quite a hard time physically from the sounds of things.  Despite this, he pops up in race photographs helping Jesse cool his horse down and has finished the day in joint third place.  A fantastic rider and all-round competitor, I have no doubt that he will leave Mongolia with a new set of friends and hopefully without his racing outfit.  That jacket. Has. To. Go.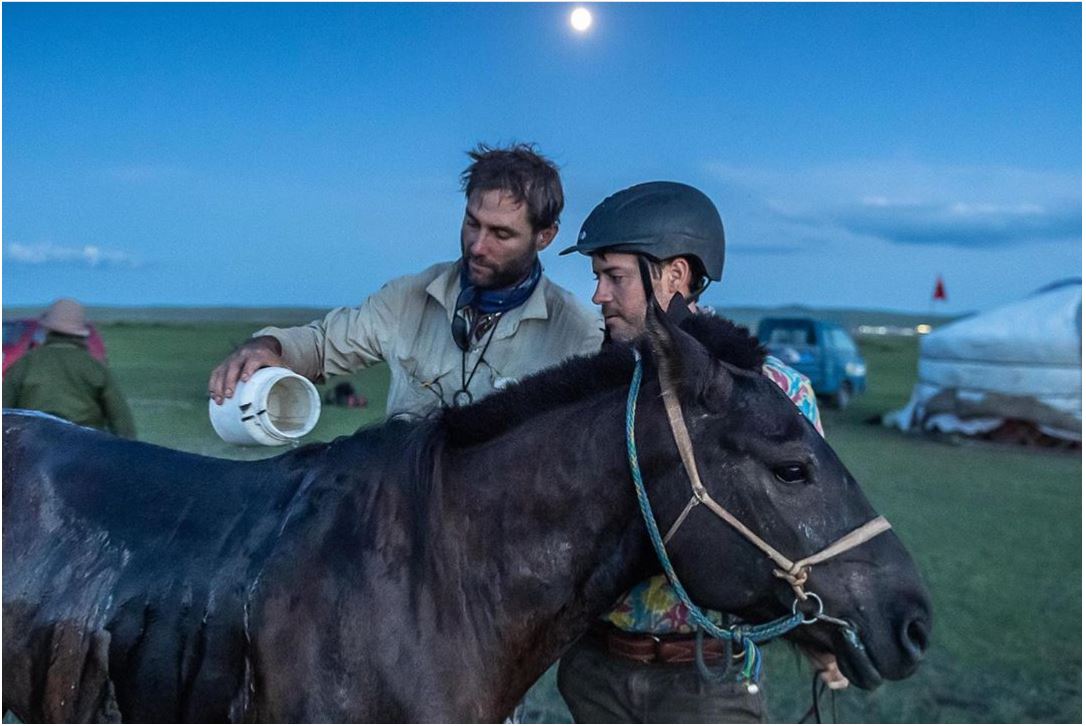 Sam holding Jesse's horse. Thanks to Sarah Farnsworth & the Adventuriststs for the photo.
Michael Field
I started following Michael "Indiana" Field thinking that he was racing in a team with Sam, but boy am I glad I made that mistake.  This increasingly grumpy paleo-botanist is hanging on like grim death at the back of the field and presumably taking less pleasure from the flora than he thought he might but nothing detracts from the enjoyment I derive from watching this chap grumble his way across the steppe.
Quote of the day from him: 
"all that training I've done and that s****y little horse that dumped me in the friggin river"
Well, quite.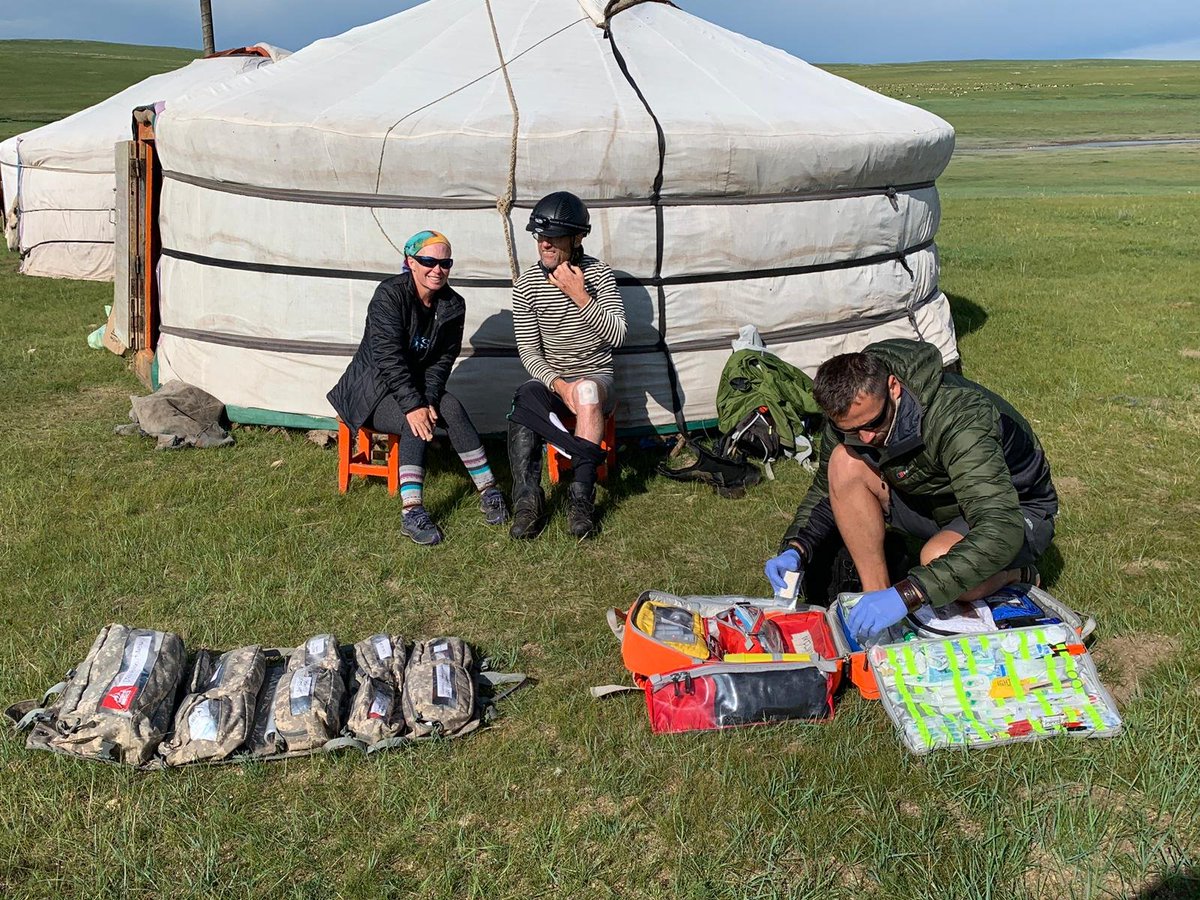 Michael Field, cross. Thanks to Sarah Farnsworth & the Adventurists for the photo.
Jesse Byrne & Sarah Brown
These guys were reunited at the end of Day 6, to the delight of their hordes of followers.  I'm not sure that there is a single person in Western Australia who isn't glued to their computer screens as this very professional team battle their way onwards at the front of the field.  They have fought like lions and the race wouldn't have been half as exciting without them.  They sit in joint third place and keeping that is likely to prove the last battle in what has been an epic war for these guys.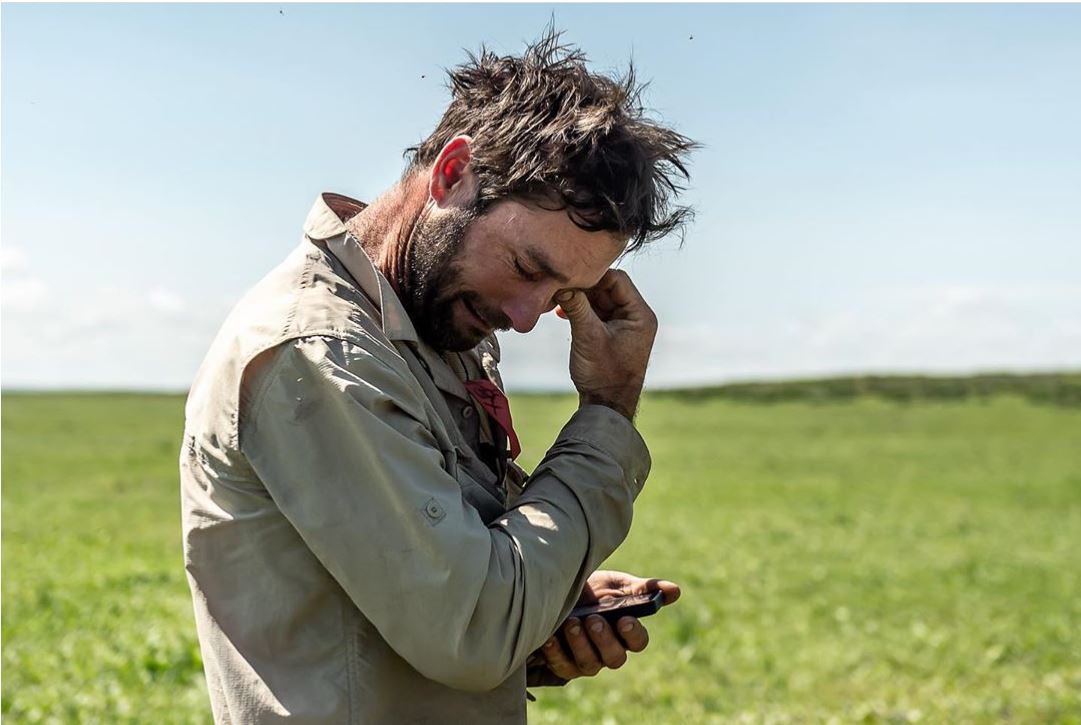 Jesse getting a message from home. Thanks to Sarah Farnsworth & the Adventurists for the photo
Frank Winters
I will always have a bit of a soft spot for this rider, I think.  Team player, beautiful rider, wonderful horseman - he should be very proud of his race and Texas should be very proud of this particular son.  Thanks for everything Frank.  
Frank sits in joint third place tonight, proving that Will Grant was right and yes, you can ride 1000 kilometres in jeans and finish smiling.
General standings
HS27-28
1. Robert Long
HS26-27
2. Wiesman Nel
HS26
3. Sarah Brown, Jesse Byrne, Justine Hales, Frank Winters, Sam Chisholm, Margreet Voermans, Zsofia Homor
HS25
9. Sampie Mokoakoe, Elise Stables, Lucinda Kyle
HS24
12. Ben Materna, Kelsey Eliot, Linda Vegher, Katie Angus, Julia Conway
HS23
17. Annette Kriller, Linda van Gorkum
HS22
19. Rachel Roman
HS21
20. Katie Hasse, Taggert vin Zant, Catherine Kennedy, Francis Delaey, Michael Field, Esther Leenen, Aly van der Meulen