← Back to portfolio
2019 Mongol Derby: RACE UPDATE - Day 8, Part 2
Welcome to the update from Day 8, Part 2!
No-one expected yesterday to be as exciting as it was.  Robert took an uncharacteristic detour just out of HS27 at the end of Day 7 and I did look at it thinking, maybe, just maybe someone would find a better track and seize the day but also suspecting that Robert's route was always the best route.  I wasn't holding my breath.  
Imagine my surprise when I got back from Willowbank (local nature reserve) and being fondled by an optimistic Kea (NZ native parrot) looking for fruit to find that Wiesman's little dot had taken a much more direct line and looked to be closing in on Robert, against all the odds!  Sadly, this turned out to be a bit of tracker nonsense; Wiesman rode over the finish line two hours behind Robert in the end, but I enjoyed the artificial suspense for as long as it lasted.
Wiesman rode an incredible race over the last two days to finish in second place.  He rode himself right back up to the sharp end, coming back from two vet penalties to push through the chasing pack and out the other side into second place.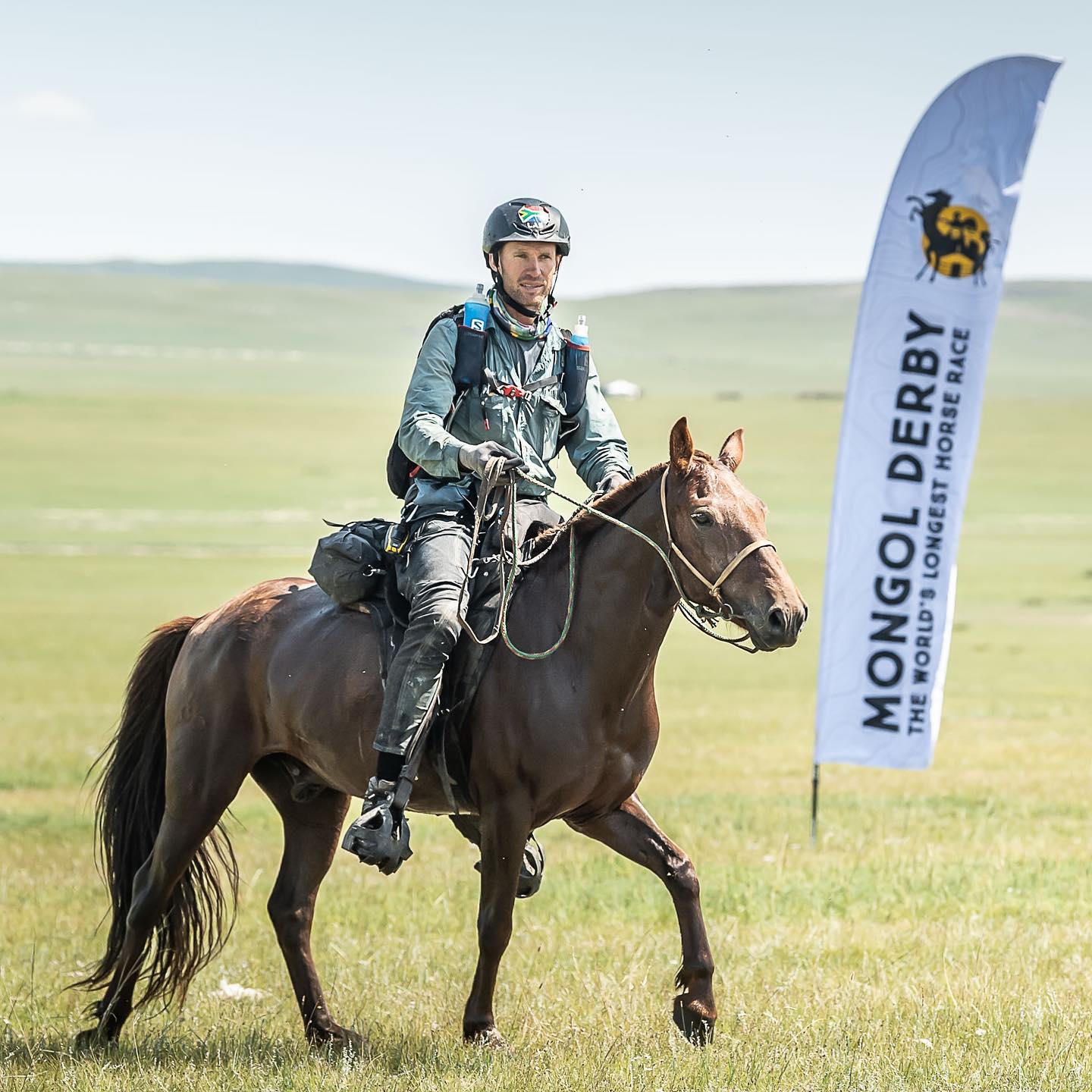 It turns out that when Sarah and Margreet slowed on Day 7, Margreet was on a lame horse and suffering heat exhaustion, which explains that.  Margreet described Jesse appearing over the horizon as a "HELLO JESUS" moment and, well, I can only agree.  The man needs a shave.
For his part, Jesse thought it would take him two legs to catch the ladies after his lost horse and resultant three hour carry forward penalty at the start of Day 6.  In the end, it took him two DAYS.  Apparently with his voice in the back of their minds they rode "like demons".  
These incredible competitors were reunited and, to add to the party atmosphere, joined by Justine Hales to cross the line in joint third place.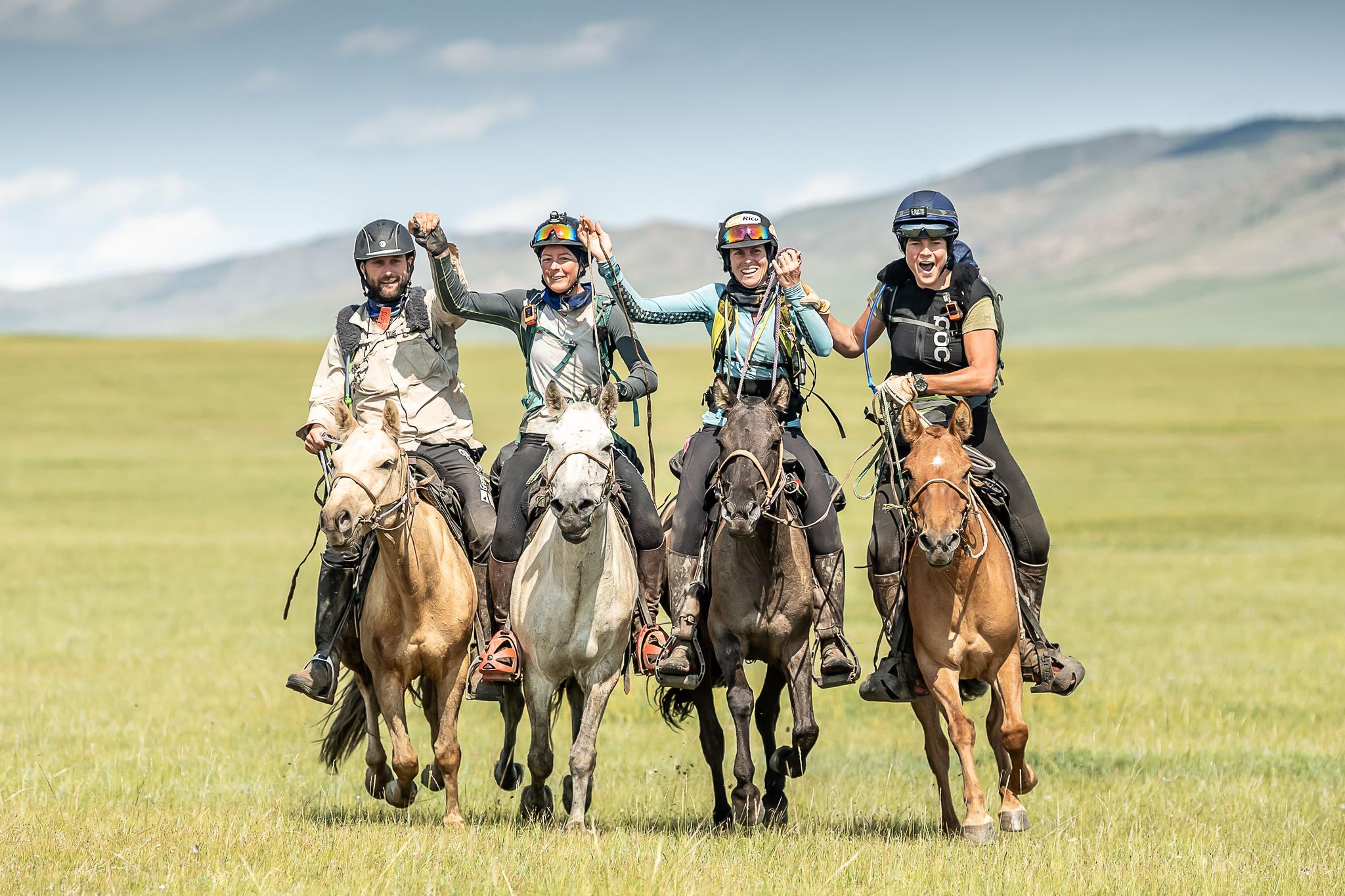 Justine said on the finish line that she felt "surprisingly good" and "much better than expected" considering that six weeks previously she was on the operating table.  Goodness knows what for, or what she was thinking but glad to hear that she was "happy to be here" (on the finish line).  What a woman.
Also over the line today were Frank Winters, whose words were sadly lost to posterity and the trade winds of the Mongolian steppe, racing over the line in 7th place and closely followed by his erstwhile companion for much of the race, Sam Chisholm.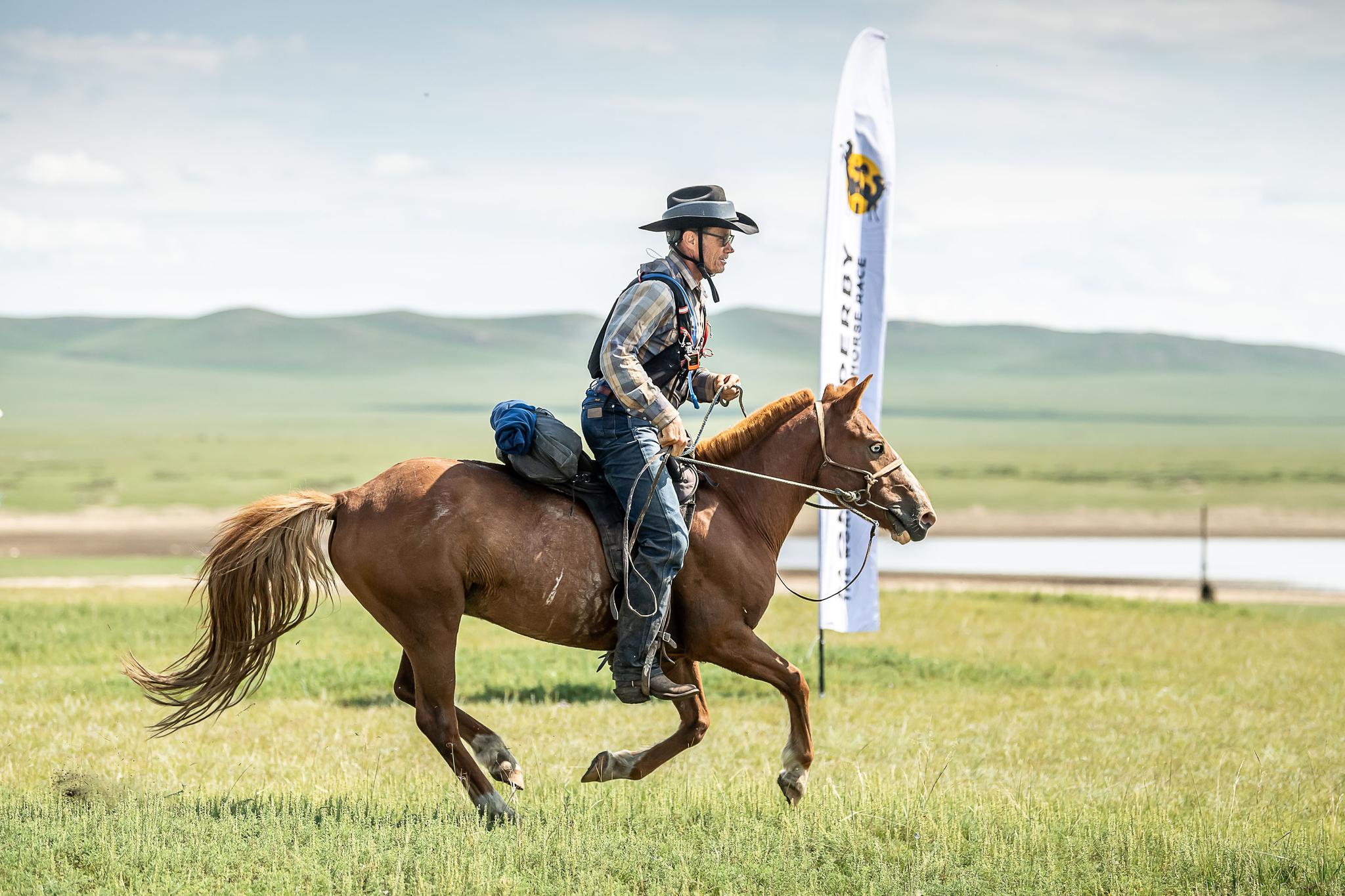 Poor Sam's hands were shaking as he clutched his beer at the finish line and his eyes had a touch of the old thousand-yard-stare about them as he admitted that the hardest part of the race was "getting on my last horse" and that "three guys had to lift me on".  Before dropping his lead rope.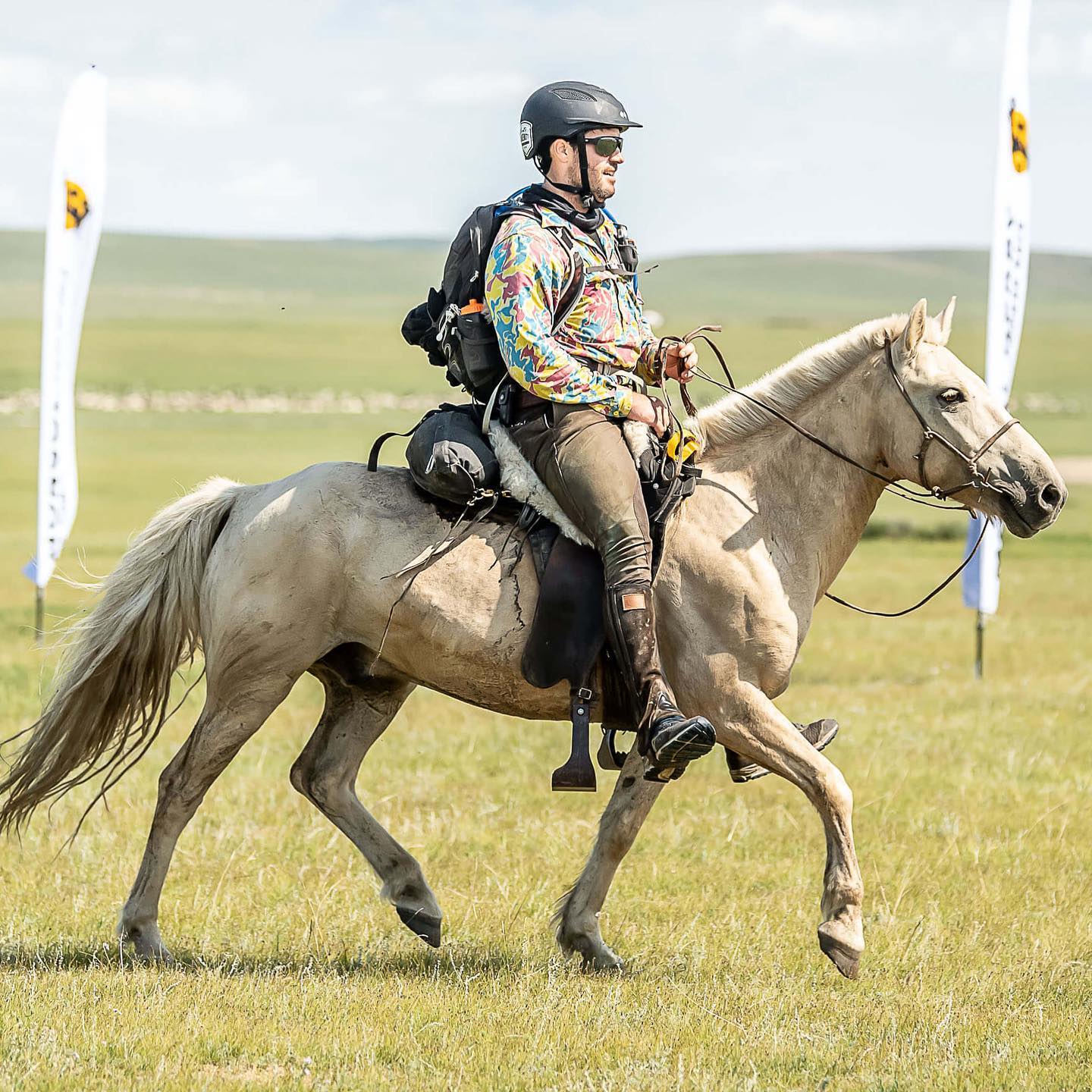 Sounds like he really did tear something in his ankle yesterday - hopefully no lasting damage and he can rest easy in the knowledge that having succesfully completed the race, he never has to do it again. 
Zsofia came in next in 8th, followed some time later by Elise Stables in 9th and Lucinda Kyle in 10th.  
No pictures yet and Elise was too overcome by emotion to say much, but she should be very, very pleased with that result - finishing in the top ten in a race as closely contested as this one is no small feat.  Go Kiwi!
And what about the (other) featured riders?
Well, most are across the line now, of course.  Still to come: 
- Sampie Mokoakoe, who got a little lost today but was found and redirected by Charles van Wyk's Afrikaans texts);
- the banter twins Alanna & Holly (who are taking the time to demonstrate that they may be small but they are mighty horsewoman as they ride horses rejected by earlier riders as unrideable); and 
- dear Michael "Indiana" Field whose partner, Apple, is waiting for him on the finish line.  He's at HS24 so she may not see him on Day 9, but provided he can keep hanging on he will finish within the 10 days required for an official finish.
That's quite enough from me.  I leave you with Wiesman's finish line interview. 
Wiesman Nel

On weather:
"The race started in typical English, or Wild Coast, weather. Nice riding weather and thanks to good gear I was warm although my feet have been in soaking socks for quite a while.
On the dogs:
I just used that good old Afrikaans word VOETSEK and that seemed to work.
On who he rode with:
I did a lot of riding with Sampie, or on my own though I enjoyed riding and spending time with the other riders I met on the course.
On terrain and navigation:
The toughest terrain was swamp; I almost got bogged on the way in to the finish line! The navigation was good for me. I used my phone and google maps, got to learn the terrain and use the roads.
On Mongolian horses:
The horses were feisty with the herders but once they were with you, they relaxed. I didn't have a single horse that I had a problem with en route and they were all the same. Trotting on these little horses was very comfortable, you hardly have to post! I was doubtful before I came about riding uncomfortable lazy horses but they were amazing. I would never have thought they could do what they did. They are really powerful - you just need to pace them towards the end of each leg and the horse you get is the luck of the draw, but also the magic of the race. Just make sure you're fit! I had to pace myself and my horse because I'm heavy so if I picked a horse and realised that it was young or unfit, I did a lot of trotting and got off and ran alongside at points. I tried to choose leggier, bigger horses that were still athletic. I avoided the fatties.
On racing strategy:
I used every minute of the racing time available and took every opportunity to pass a vet check. I had to be very careful, but I never gave up. To finish is to win. What an experience.
To friends, family & supporters at home:
Thank you to my family - I really love you. Thank you for the prayers which gave me the strength to finish this. Viva South Africa! To all South African endurance riders this is a MUST DO race. Start saving!
Add a comment